Chiesi's commitments to carbon neutrality
In 2019 we publicly announced our decision to become carbon neutral by the end of 2035, well ahead of the 2050 target set out in the Paris agreement – and 15 years ahead of the UK national target.1,2
Chiesi is not the first company to make a public commitment to reduce its carbon footprint. However, with our #ActionOverWords campaign1, we want to cut through the language of corporate sustainability commitments which often focus on words rather than the actions required to achieve them, often using terms like carbon neutral, net zero and climate neutral interchangeably. If these actions are not independently verified by international standards, the commitments themselves are just words. To date, only a few companies refer to official standards to measure progress towards their commitments on an individual company level.
Chiesi's Journey to Net Zero
Chiesi believes true 'sustainability' can only be achieved with a holistic view to go beyond JUST offsetting emissions, by also reducing emissions in all aspects of its business.
With this goal in mind, we have committed to become carbon neutral by 2030 for direct greenhouse gas (GHG) emissions (scope 1) and indirect GHG emissions from purchased electricity and heat (scope 2), and by 2035 for our other indirect GHG emissions (scope 3).
Our Strategy is to:
In simple terms, Chiesi adopts a hierarchical approach to its mitigation strategy: Avoid, Reduce, Substitute and Remove. In this way, by avoiding carbon-intensive processes by design, we reduce the emissions we produce.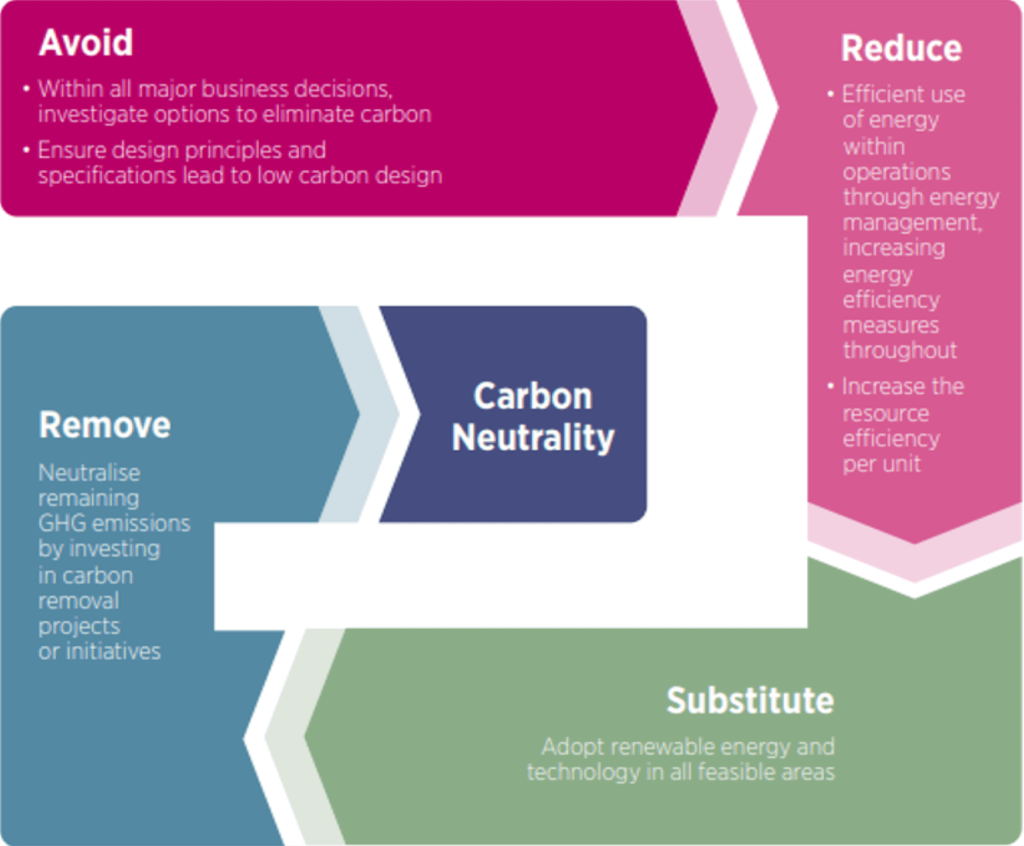 In line with this strategy, please see below key areas where we commit to reducing our carbon emissions:
Improving business operations, being as energy efficient as possible
Maintaining 100% renewable energy consumption at Chiesi sites that have already achieved this
Transition to 100% renewable energy at the remaining sites
Utilising sustainable chemistry as a way to eliminate, substitute and minimise the use of hazardous substances in our manufacturing sites
Electrifying the car fleet.
In 2021 we achieved electrification of about 20% of the car fleet and the installation of 70 additional charging stations at our facilities
Installing new technology at our manufacturing sites that aim to capture and reuse leaked propellant, reducing the carbon footprint from the manufacturing process.
In 2021 we achieved a 50% reduction in propellant released; we aim to increase this to 60% in 2022
Transition to an environmentally friendly propellant in our pMDI devices from 2025, which has the potential to reduce the carbon footprint by up to 90%, bringing carbon emissions in line with DPI devices
Reduce GHG emissions with the goal of reducing emissions to the maximum extent
In 2021, our reduction targets were approved by the Science Based Target Initiative (SBTi)3 – a robust, global reference framework designed to drive meaningful climate action in the private sector. This has helped to provide us with a clearly defined pathway to reduce our greenhouse gas emissions, and these targets are aligned with the Paris Agreement's most ambitious goal to limit global temperature rise to 1.5°C above pre-industrial levels by 2100.
In 2022 we aim to go beyond the reduction targets approved by SBTi, by developing a reduction plan for each emission source in our greenhouse gas inventory, as well as identifying specific reduction targets. We believe that, for a meaningful and serious approach towards carbon neutrality, it is our duty to spare no efforts in minimising all emission sources but, at the same time, to implement measures to remove as much carbon dioxide as possible from the atmosphere. Therefore, by 2022 we aim to finalise a specific carbon removal strategy for the Group in accordance with the highest offsetting standards. We also aim to continue our emission reporting actions in our Annual and Sustainability Report and within the Carbon Disclosure Project initiative (see below for more details).
Words don't matter, actions do
Chiesi has also chosen to partner with a number of third-party organisations committed to tackling climate change.
Carbon Disclosure Project,4 a not-for-profit charity that runs the global disclosure system for investors, companies, cities, states, and regions to manage their environmental impact.

In 2021, Chiesi received an overall score of B on the climate change questionnaire, which is recognised at management level for its carbon neutrality strategy and taking coordinated action on climate issues.
We also were awarded an A grade for governance on climate change topics, which recognises the effort being made on addressing the carbon neutrality strategy at a global level.

B Corp Climate Collective (BCCC), committing to the United Nations Framework Convention on Climate Change (UNFCCC) "Race to Zero". This global campaign aims to encourage leadership and support from businesses, cities, regions and investors towards creating a greener future.
Chair of the Association of British Pharmaceutical Industry (ABPI) SUSTAIN (Sustainability Members) Working Group which is leading the pharmaceutical industries response to reduce the environmental impact of medicines, supporting the NHS and UK Government to achieve its Net Zero commitments.
Please do not hesitate to contact your Chiesi medical team should you wish to discuss our sustainability commitments
Contact Us